"Oh, taste and see that the Lord is good;
Blessed is the man who trusts in Him!"
Psalm 34:8
Baked Hot Chocolate – a warm and delicious flourless pudding-like dessert that uses only 4 ingredients. Especially satisfying on a cold day!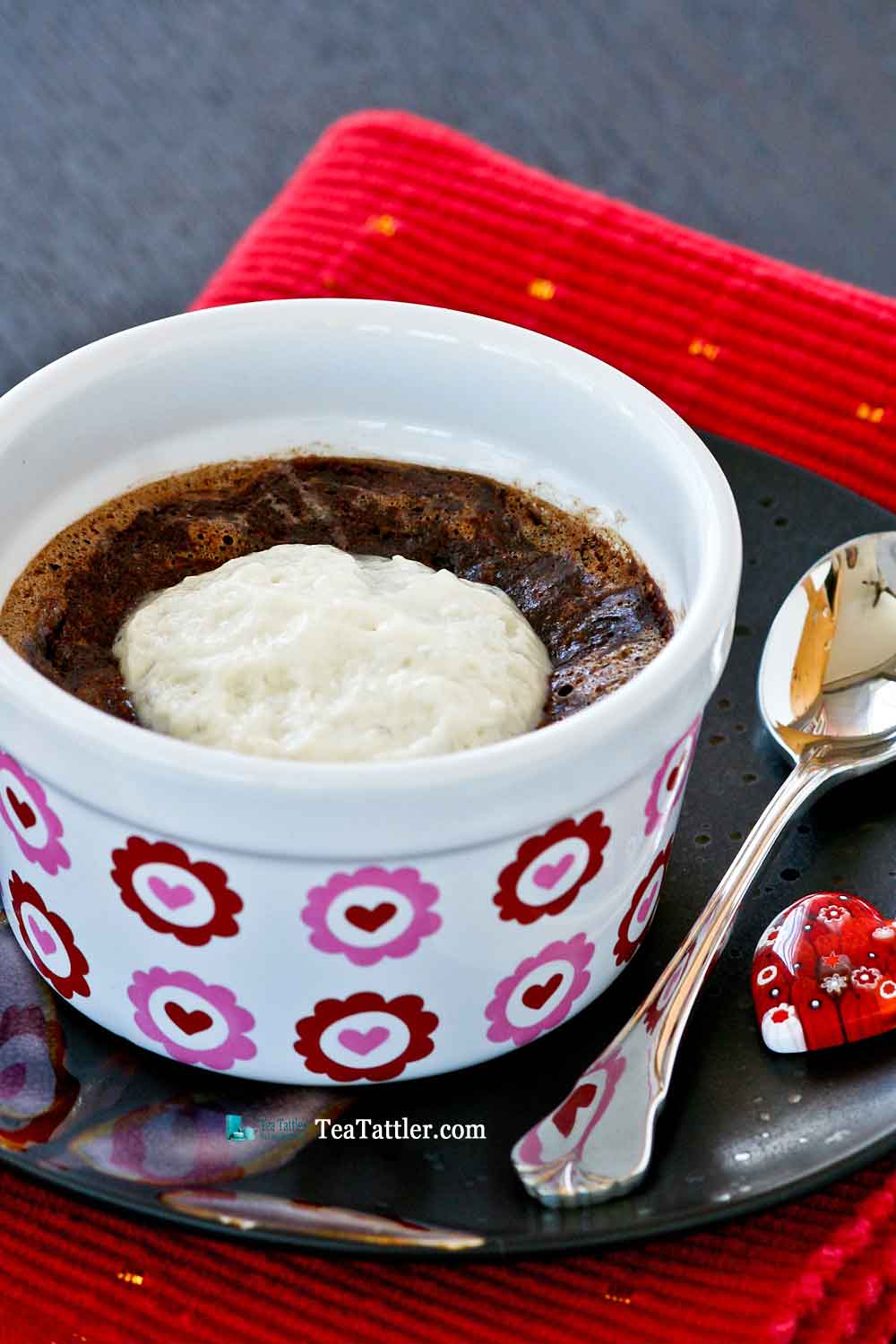 It's Valentine's Week and there are lots of chocolate recipes out there. Molten chocolate desserts accompanied by juicy red fruits are particularly popular this season. I was really tempted but decided on a simpler and flourless option that is no less delicious. Baked Hot Chocolate is warm, homey, and totally satisfying. It is like a hug on a cold winter's day. Best of all, it can be made for one or for a crowd.

Easy Recipe Using only 4 Ingredients
I found this recipe at The Wall Street Journal. It uses only 4 ingredients. I cut back slightly on the butter and chocolate to make it scalable. I used 2 ounces of semi sweet chocolate, 1 tablespoon of butter, 1 large egg, and 1 tablespoon of sugar for each serving. It was really easy to prepare and I was very happy with the results.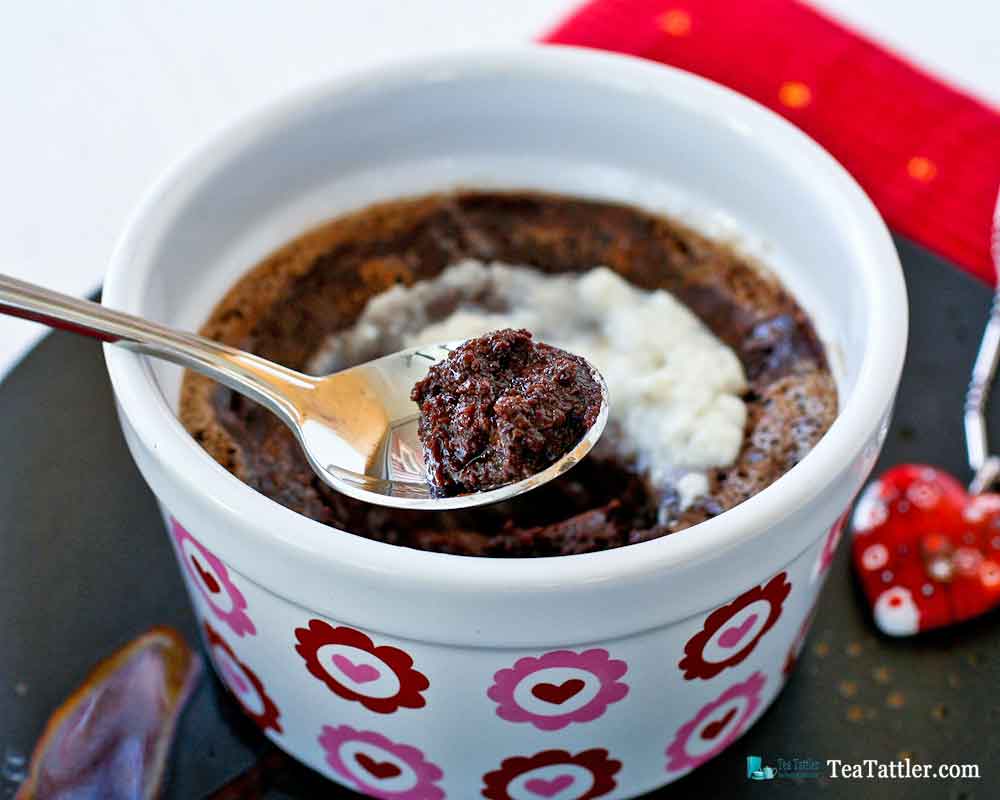 Similar Products Used in Making This Baked Hot Chocolate
This post contains affiliate links. Please read my disclosure policy here.
White 6 oz Ramekin Bowls, 8 pcs
Blue 8 oz Ramekins, Set of 6
Navy 8 Ounce Ramekins, Set of 4
Teal 8 oz Ramekins, Set of 6
Colorful 8 oz Ramekins, Set of 6
Baked Hot Chocolate
BakedHot Chocolate - a warm and delicious flourless pudding-like dessert that usesonly 4 ingredients. Especially satisfying on a cold day!
Ingredients
4

oz

good quality semi sweet chocolate

(115g)

2

tbsp

butter

(28g)

2

large

eggs

2

tbsp

sugar

Whipped cream

for serving (optional)
Instructions
Preheat oven to 350°C (180°C). Arrange 2 ramekins in a deep rectangular baking pan.

Melt chocolate and butter in a double boiler. Stir until smooth. Remove and set aside.

Place eggs and sugar in a medium sized bowl. Beat lightly until combine. Set bowl over simmering water used to melt chocolate until egg mixture is warm to the touch.

Remove from heat and beat egg mixture until light and fluffy. This will take 2 to 3 minutes.

Gently fold egg mixture into chocolate mixture. Divide batter evenly into ramekins.

Add enough hot water into baking pan to come up to half way up the sides of ramekins. Bake for about 20 minutes or until the tops lose their glossy finish.

Remove and serve warm or at room temperature with whipped cream.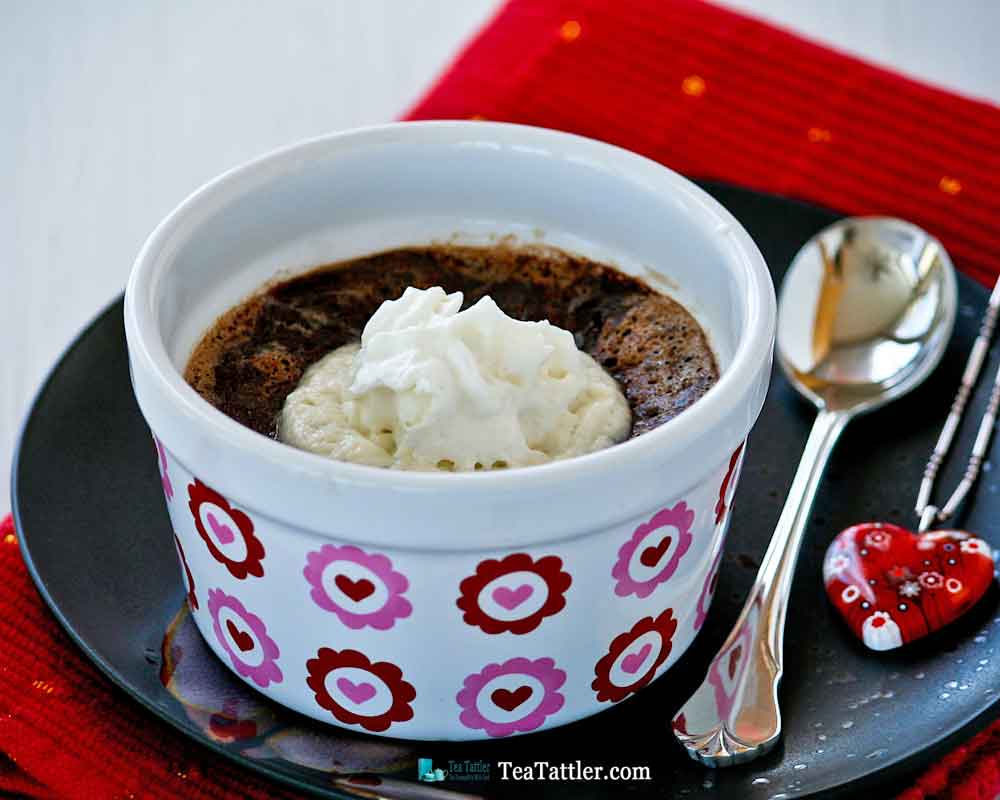 Banana Strudel will go well with this Baked Hot Chocolate. They are a winner! You don't want to miss it. The recipe is posted on Roti n Rice. To get to the post, please click here or on the picture below.
Since Valentine's Day falls on a week day this year, hubby and I will likely postpone it till the weekend for a more leisurely celebration. It used to be that the celebration has to be on February 14th itself but after umpteenth years of marriage, a day earlier or a day later does not make that much of a difference.
HAPPY VALENTINE'S DAY! 😎