"But the fruit of the Spirit is love, joy, peace, longsuffering, kindness, goodness, faithfulness, gentleness, self-control. Against such there is no law."
Galatians 5:22-23
Cantaloupe Strawberry Salad – a cool and refreshing fruit salad using seasonal fruits perfect for a light meal or dessert.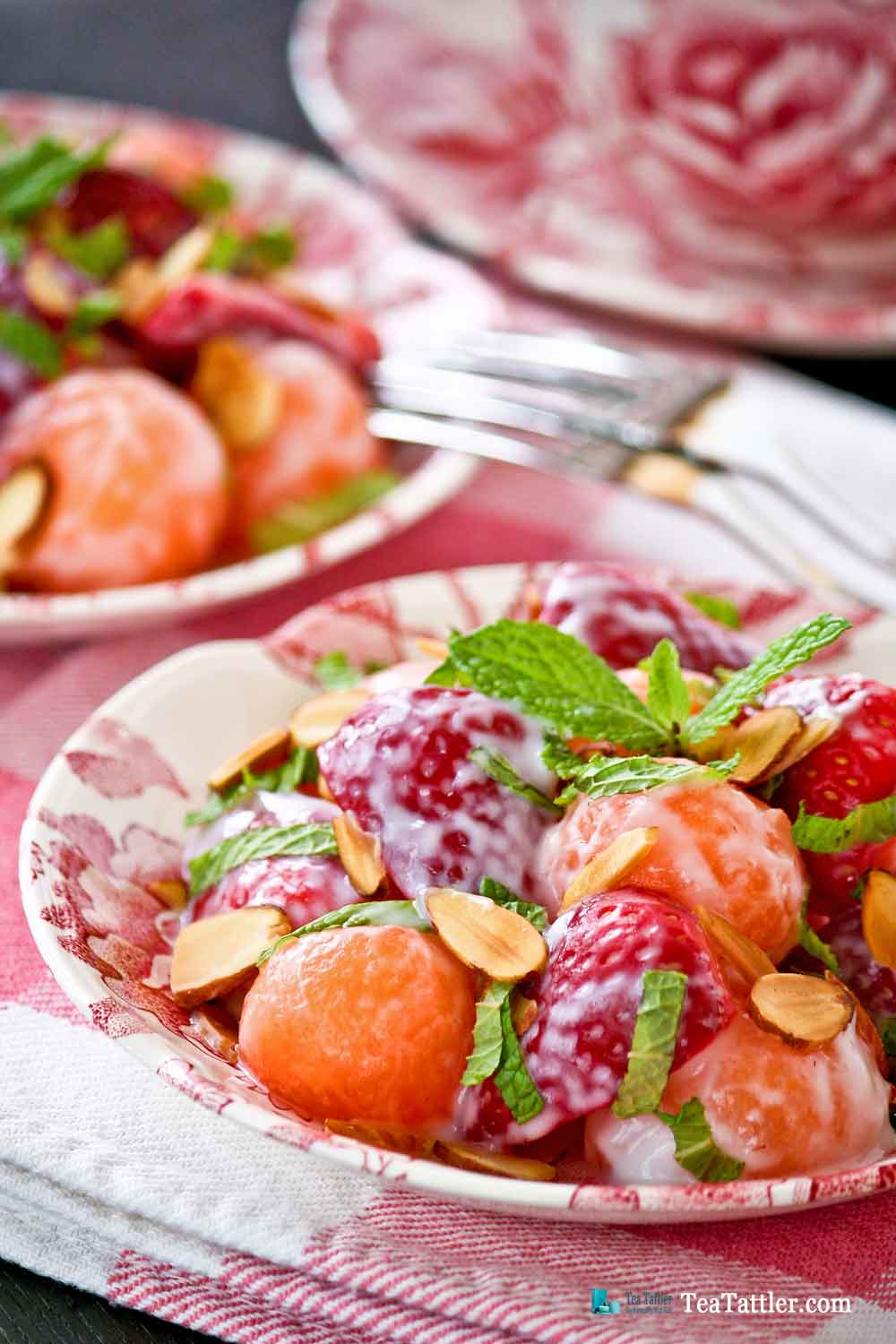 I am a firm believer in eating seasonal foods. It makes sense because seasonal foods are at their peak, in terms of harvest and flavor. They are also usually at their freshest and cheapest on the market. It is a win-win situation for both the consumer as well as the producer.

The First Signs of Spring
One of the first signs of spring at the grocery stores are the appearance of melons, berries, and asparagus. This past week, cantaloupes and strawberries were on sale. I could not pass it up. I picked up a huge cantaloupe that looked like it was ready to be eaten and a pack of strawberries.
Juicy Cantaloupe
The cantaloupe was from Guatemala. When I cut open the melon, I was surprised by the color of its flesh. It was a deep orange color, almost like a mix of orange and red. It reminded me of blood oranges though not as deep. The flesh is really fragrant, juicy, and very sweet. I can't wait to go back and get another one to make ice cream or this Cantaloupe and Mango Sorbet.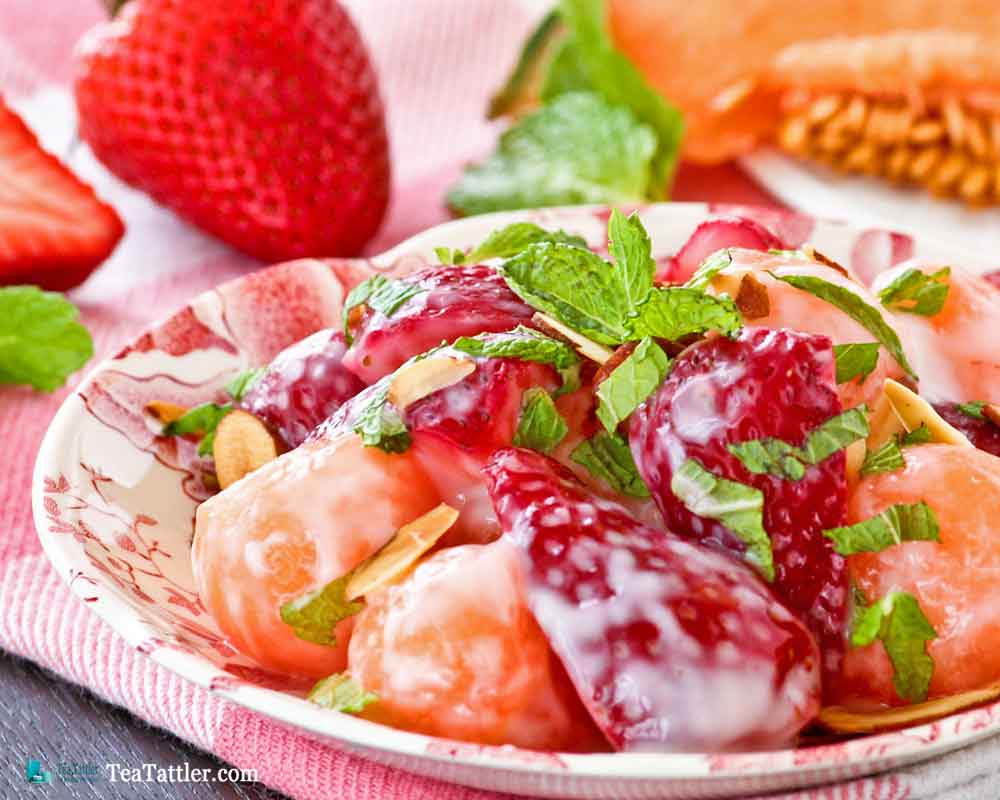 A Fruit Salad
I decided on a simple fresh fruit salad combined with strawberries and mint this time. Since both fruits are on the soft side, I added toasted sliced almonds for texture. I actually had this Cantaloupe Strawberry Salad for lunch and enjoyed it thoroughly.
Similar Dinnerware Found in this Cantaloupe Strawberry Salad
Unfortunately, this English Chippendale design you see in this post is no longer in production and you can only find used ones on the internet. That said, you may wish to check out other beautiful dinnerware from the same manufacturer, Johnson Brothers I have listed out below for you.
This post contains affiliate links. Please read my disclosure policy here.
Friendly Village 20-Piece Dinnerware Set
Devon Cottage 20 Piece Place Set, Multicolored
Twas the Night Dinnerware Set, 5 Piece
Old Britain Castle Dinnerware Set, 4 Piece, pink
Cantaloupe Strawberry Salad
Cantaloupe Strawberry Salad – a cool and refreshing fruit salad using seasonal fruits perfect for a light meal or dessert.
Ingredients
½

cantaloupe

2

cups

strawberries

(hulled and cut into quarters) (400g)

2

tbsp

lemon juice

½

cup

low fat vanilla yogurt

(115g)

¼

cup

sliced almonds

(toasted) (25g)

1

tbsp

mint leaves

(thinly sliced) (optional)
Instructions
Scoop out seeds from the cantaloupe. Then, scoop out little balls of flesh using a melon baller.

Combine cantaloupe and strawberries in a large bowl. Add lemon juice and vanilla yogurt. Mix well.

Sprinkle almonds and mint leaves on the top. Serve immediately.