"Your kingdom come.
Your will be done
On earth as it is in heaven.
Give us this day our daily bread.
And forgive us our debts,
As we forgive our debtors."
Matthew 6:10-12
Dainty Egg and Watercress Sandwiches with hard cooked eggs and mayonnaise. Watercress provides a slightly peppery bite to the sandwiches.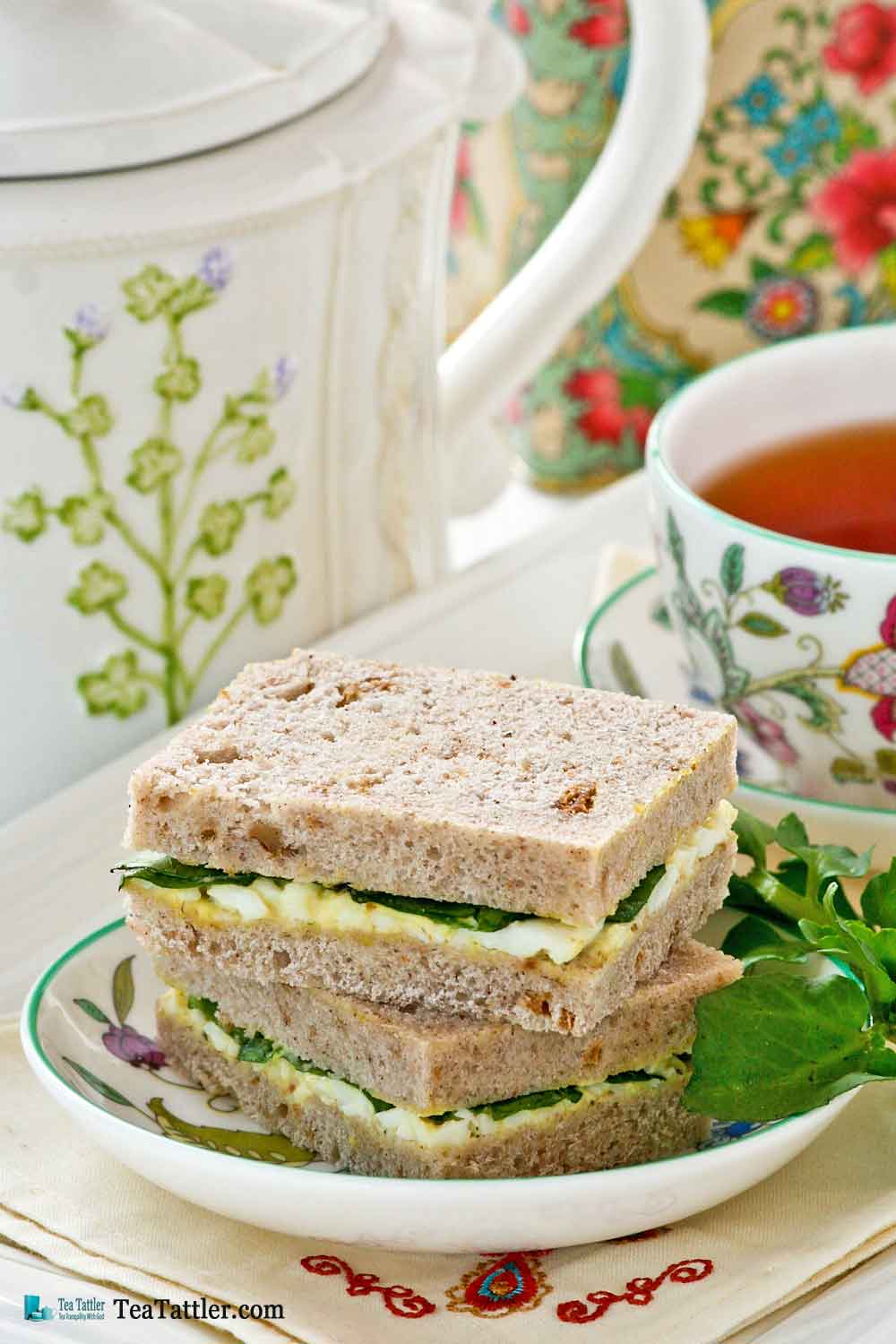 Dainty tea sandwiches are synonymous with tea time. They are always popular and provide a nice savory contrast to sweet cakes, cookies, and scones.

How to Prepare Sandwiches
Sandwiches should never be soggy. A good way to prepare them is as follows.
1. Remove the crusts from the slices of bread.
2. Spread a thin layer of softened butter on the bread from end to end to act as a moisture barrier from whatever is sandwiched in between.
3. Cut each prepared sandwich in half or on a diagonal.
Preparing Ahead of Time
Sandwiches may be prepared ahead of time. Cover them with plastic wrap and refrigerate until ready to be served.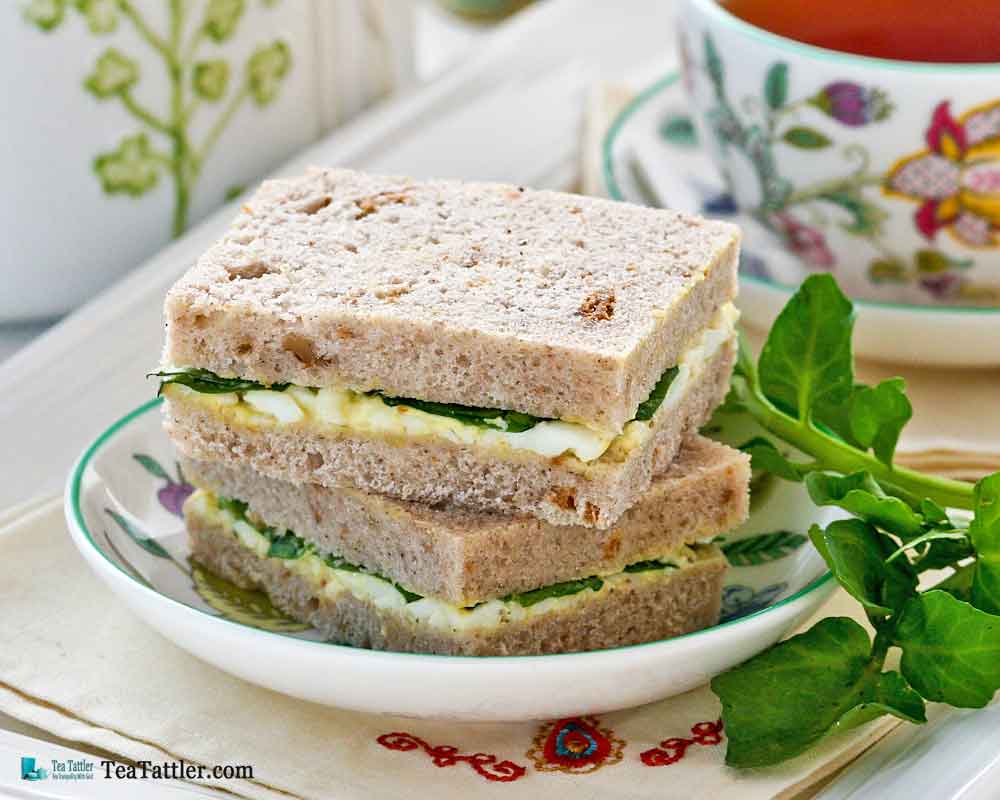 Dainty Tea Sandwiches
These Egg and Watercress Sandwiches are very easy to prepare. You only need a few simple ingredients – hard cooked (or boiled) eggs, mayonnaise, some watercress, salt, and pepper. The watercress provides a nice contrast of color and slightly peppery bite to the sandwiches.

Similar Products Seen in This Egg and Watercress Sandwiches Post
This post contains affiliate links. Please read my disclosure policy here.
Minton Haddon Hall tea cup saucer
Minton Haddon Hall Honey set
Mug, Minton Haddon Hall
Footed China Demitasse Cup and Saucer, Minton Haddon Hall
Belleek Group Shamrock Teapot, 35 Fluid Ounce, White
Belleek Pottery Harp Shamrock Teapot, Green/White
Harp Shamrock Tea for One, Green/White, Belleek Pottery
Egg and Watercress Sandwiches
DaintyEgg and Watercress Sandwiches with hard cooked eggs and mayonnaise. Watercressprovides a slightly peppery bite to the sandwiches.
Ingredients
1

large

egg

1

tbsp

Vegenaise

or mayonnaise

Salt

and pepper to taste

4

slices

bread

(any kind)

2

tbsp

butter

(softened) (28g)

1

sprig

watercress

(stems removed)
Instructions
Boil eggs in a small saucepan for approximately 12 to 15 minutes. Remove, peel and mash with a fork. Add Vegenaise or mayonnaise, salt, and pepper. Mix until combined.

Spread all 4 slices of bread with a thin layer of butter. Spread half of the egg mixture on a slice of bread. Top with watercress leaves and sandwich with another slice of bread. Repeat with the other portion of egg mixture.

Trim off crusts and cut into rectangles or triangles.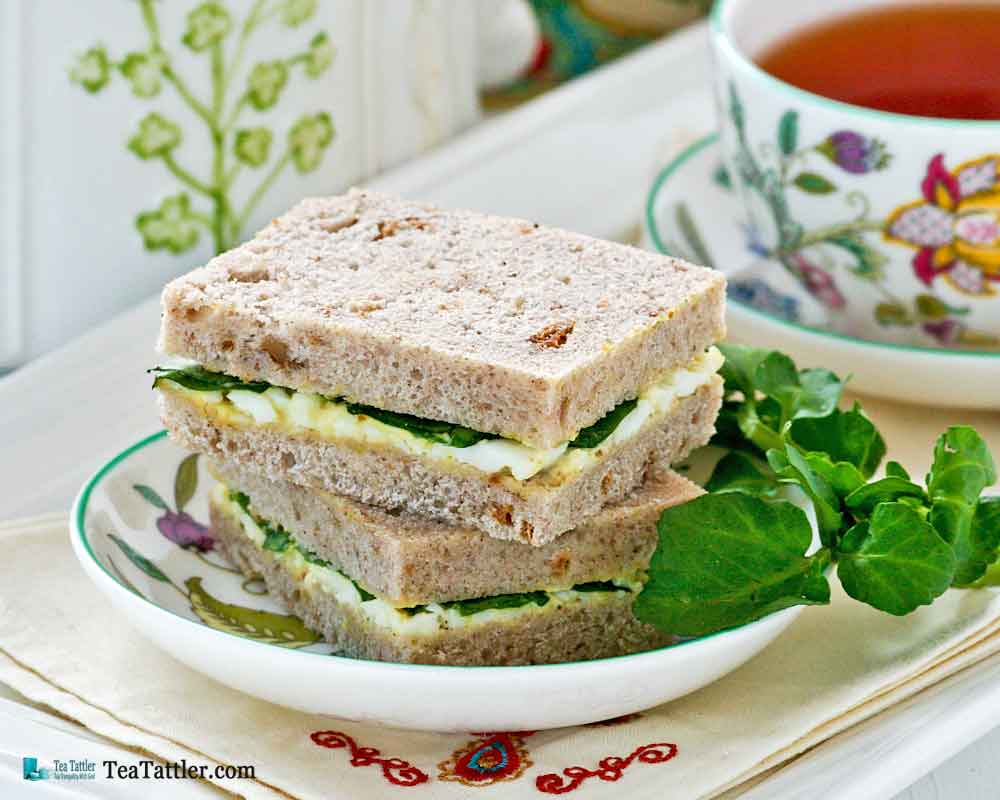 Let's put the kettle on, it is time for tea! 😎