"For if they fall, one will lift up his fellow. But woe to him who is alone when he falls and has not another to lift him up! Again, if two lie together, they keep warm, but how can one keep warm alone? And though a man might prevail against one who is alone, two will withstand him—a threefold cord is not quickly broken."
Ecclesiastes 4:10-12
This Quilted Drawstring Tea Cozy keeps tea warm for a longer period of time. It fits snugly over the teapot while tea is poured.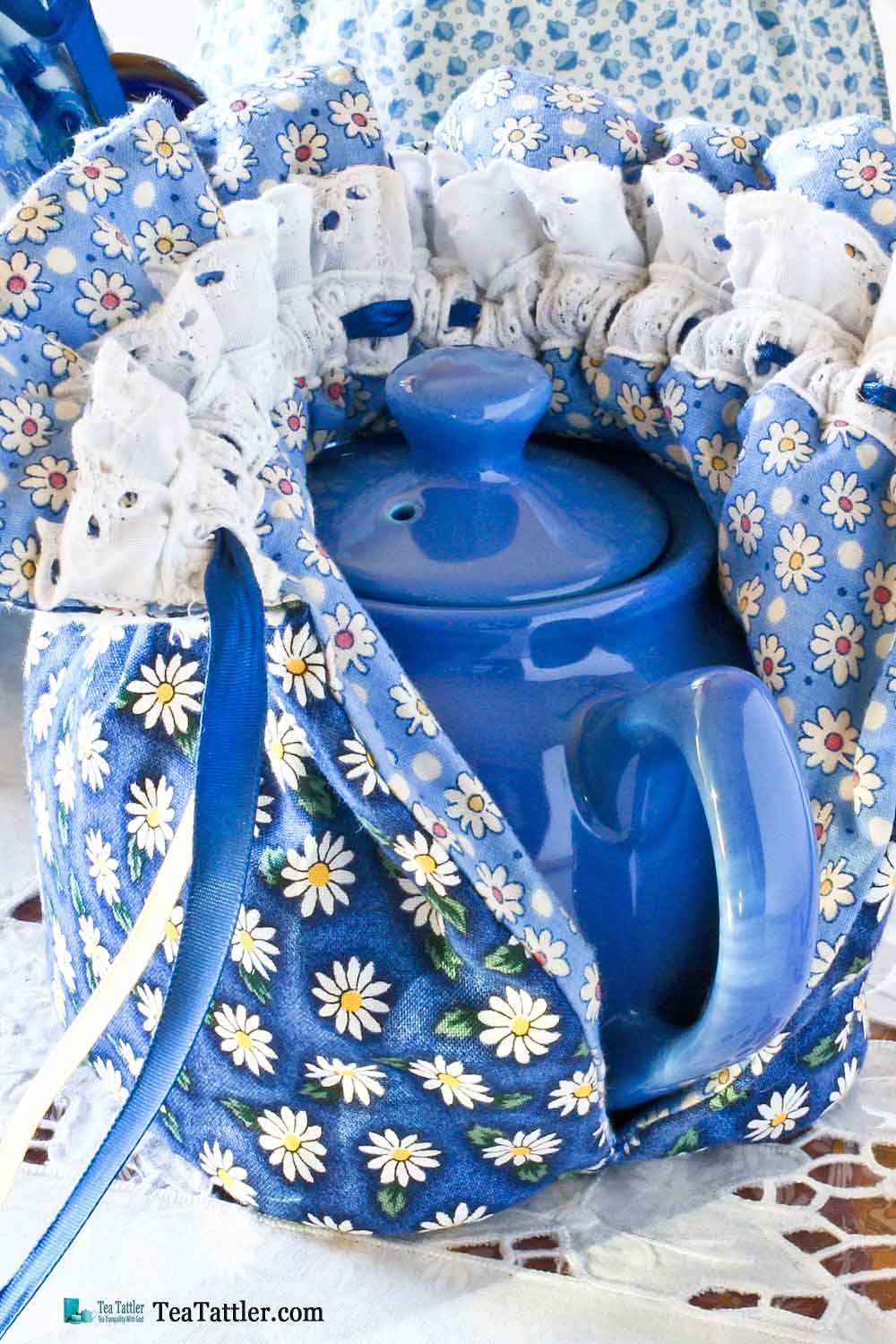 The days are growing colder here in the Northern Hemisphere and soon the full force of winter will be upon us. Food and beverages grow cold very quickly in this cold weather. This is especially so in the mornings after the temperature has been lowered the night before for bedtime. Tea in a teapot cools in minutes and tepid tea is not my cup of tea.

Tea Warmer
There are two options I use to keep my pot of tea nice and warm. One is to place the teapot over a direct heat source from a tea light placed in a tea warmer. This works really well for different sizes of teapots and if you are sitting at the table having your tea. I would not recommend a tea warmer if you intend to bring your tea to a different room in a tray. This is where the quilted drawstring tea cozy wins over the tea light. They tend to be more portable and keeps the tea really warm.
Tea Cozies
There are several different types of tea cozies – quilted, knitted, or crocheted. The traditional cozy is usually dome shaped and is simply placed over the teapot. It has to be removed to get to the teapot.
Some years back, I came across this drawstring tea cozy that is not only pretty but absolutely practical. It fits snugly over the teapot and need not be removed for the tea to be poured. I was totally enamored.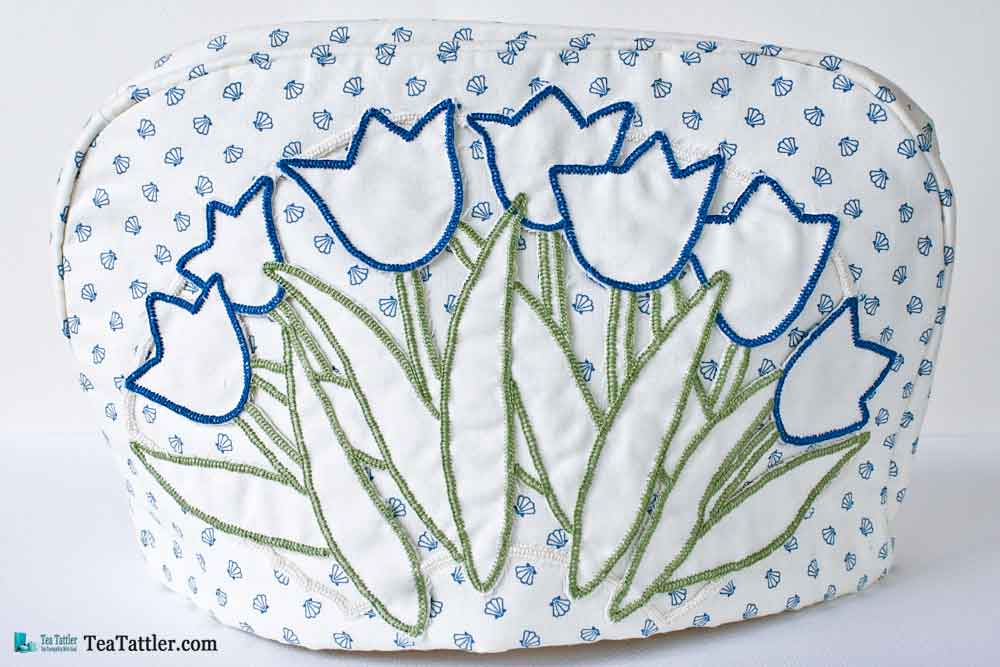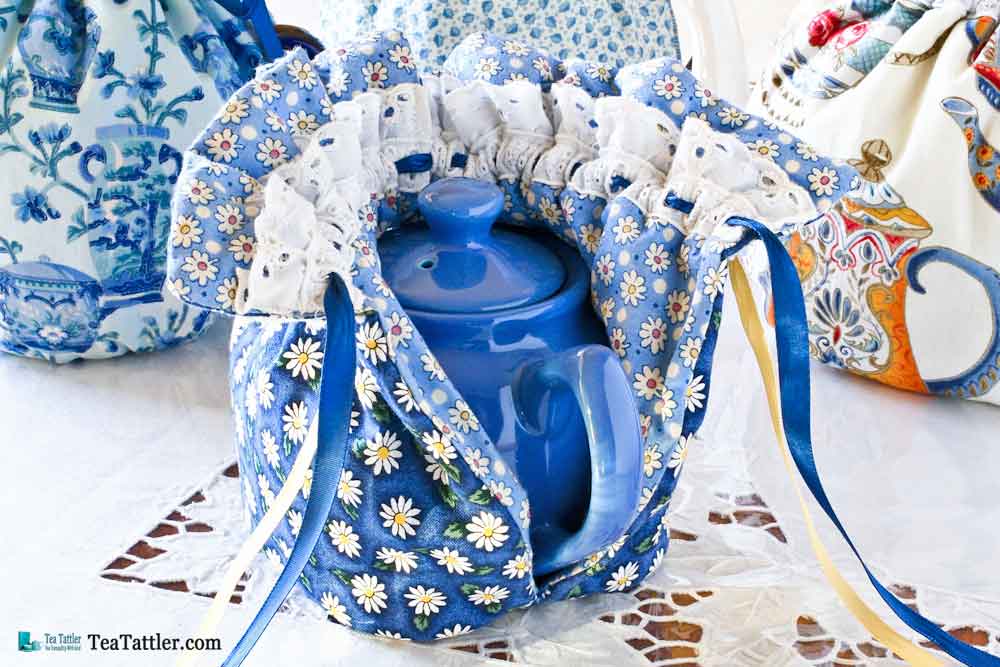 Quilted Drawstring Tea Cozy
The construction is pretty simple and so I decided to make my own. I started with ready-made quilted fabric from the store but the designs were limited. I quickly moved on to using my fabric of choice, a layer of batting, and a plain backing fabric.
Later with more experience, I made fully reversible ones so that I now have two different designs for one cozy. It was so much fun and I had so many lovely fabrics to choose from.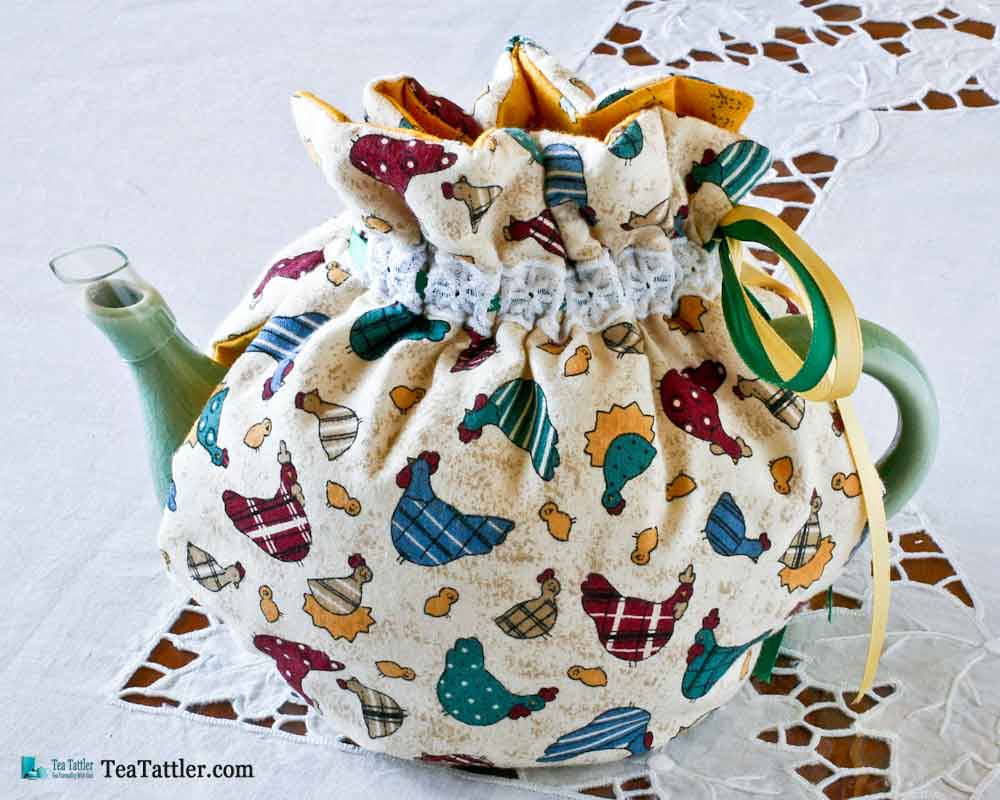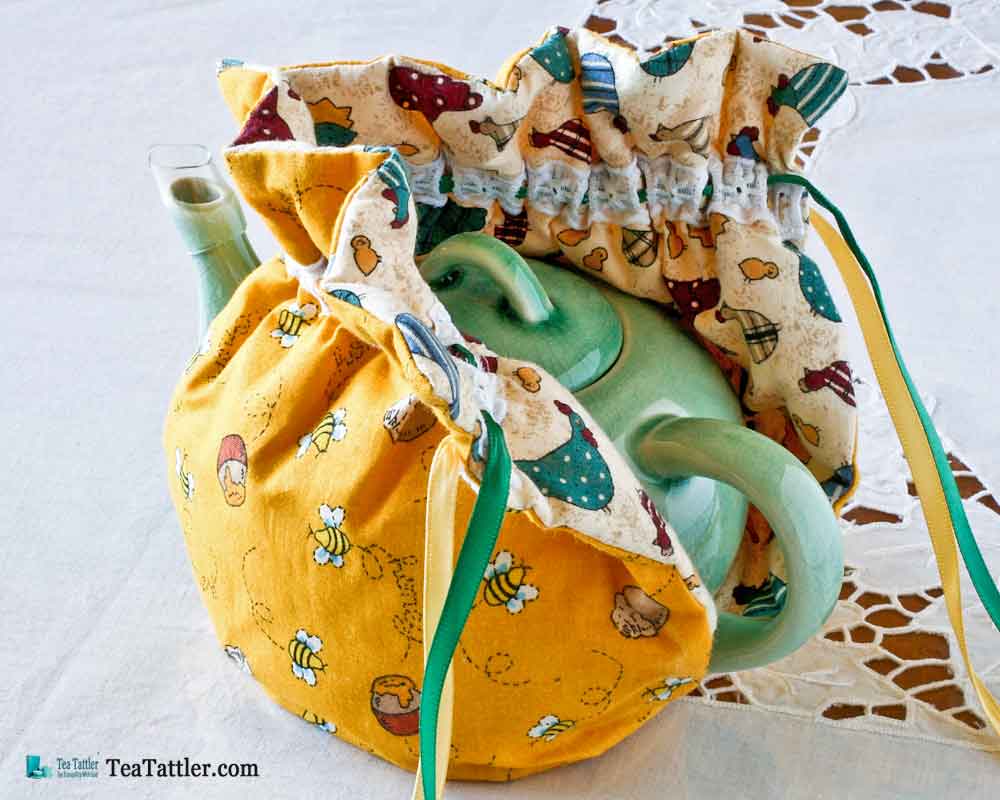 The Drawstring
For the drawstring, I initially tried sewing a simple channel to thread the ribbon through. I also tried sewing button holes but this proved to be very time consuming. Finally, during one of my trips to the fabric store, I discovered this eyelet lace which allows a ribbon to be threaded through it. Perfect!
The lace came only in white but there were choices of a single sided (only the top) ruffles, double sided (top and bottom) ruffles, or no ruffles at all. I have used all three but my favorite is the single sided ruffles. Unfortunately, I have had trouble finding this eyelet lace of late. I may have to resort to something else as I only have sufficient for one more tea cozy.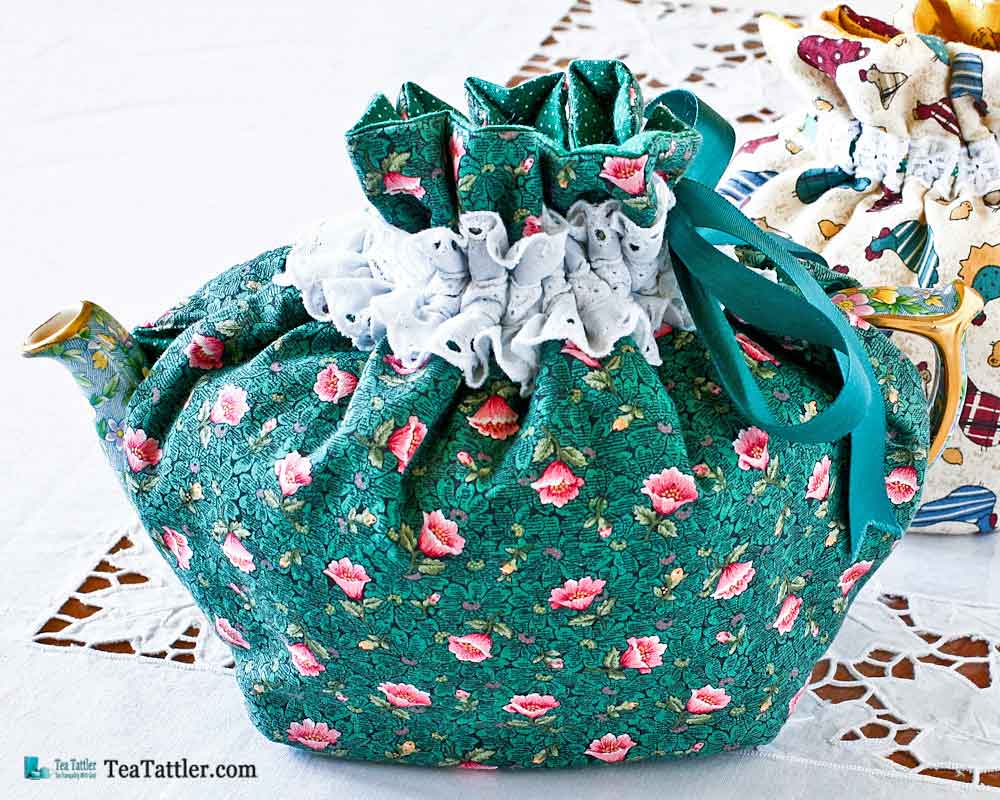 Perfect Match
During my last trip to Japan, I chance upon this pair of tea cups. Talk about a "lucky" find! I couldn't believe my eyes when I saw them as they were the perfect match for my pair of tea cozies. I had to bring them home. 😀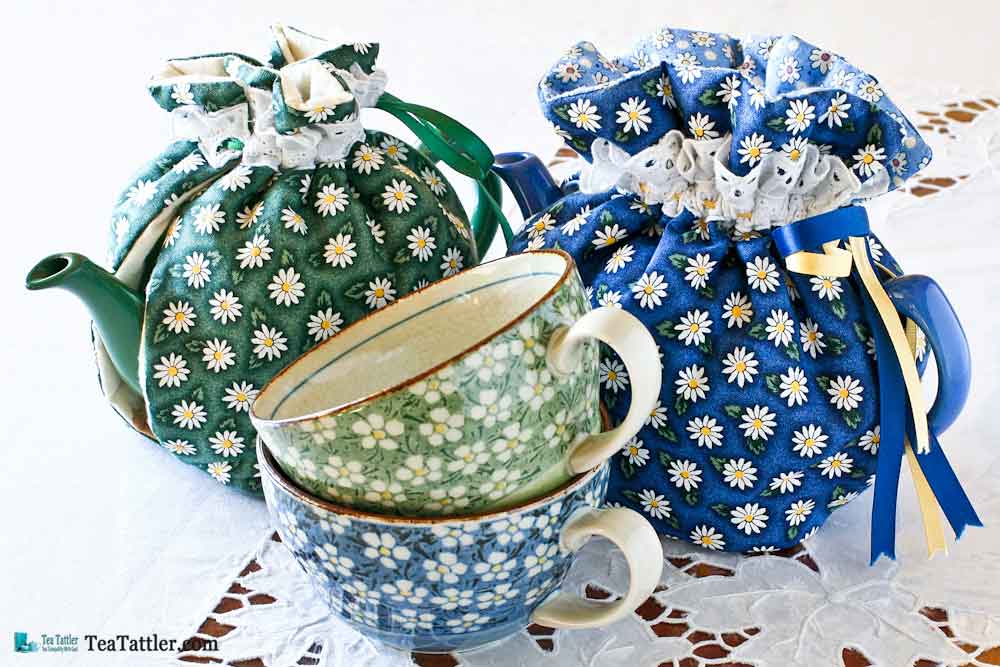 Similar Products Seen in This Quilted Drawstring Tea Cozy Post
This post contains affiliate links. Please read my disclosure policy here.
2 Cup White Daisies on Blue Reversible Tea Pot Cozy
Field of Flowers 6 Cup Reversible Tea Pot Cozy
Autumn Leaves on Cream 6 Cup Reversible Tea Pot Cozy
Patriotic Print 6 Cup Reversible Tea Pot Cozy
Spode Blue Italian Tea Cosy