"And Jesus said to them, "I am the bread of life. He who comes to Me shall never hunger, and he who believes in Me shall never thirst."
John 6:35
Pumpkin Cream Cheese Cookies – soft and chewy pumpkin flavored cookies with a cream cheese filling and a cake-like texture.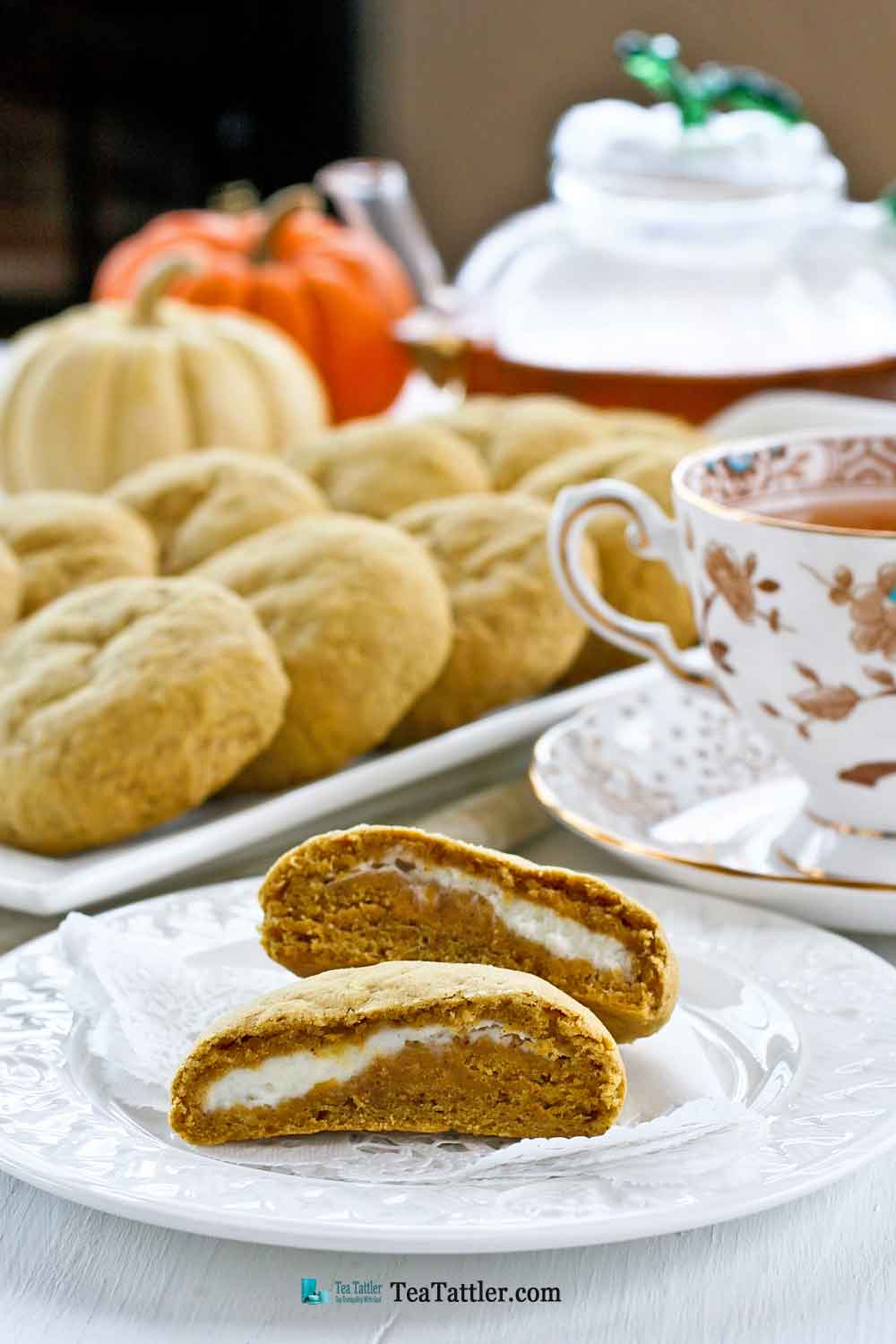 It is no wonder that I was craving for a pumpkin dessert this past weekend. Those beautiful golden orbs are on display everywhere. I had to settle for some store bought limited edition pumpkin cheesecake cookies instead of homemade ones because I was busy with other things. The white chunks in the cookies tasted more like white chocolate than cheesecake. Even so, they were pretty good – soft and chewy albeit a tad too sweet for me.

Filled Cookies
I really like the idea of combining pumpkin and cream cheese in a cookie. Since cream cheese is soft, it can either be mixed into the dough or used as a frosting. Of late though, I have been seeing a lot of filled cookies in cyberspace which I had in mind to try. Now is as good a time as any. The cream cheese would be perfect as a filling.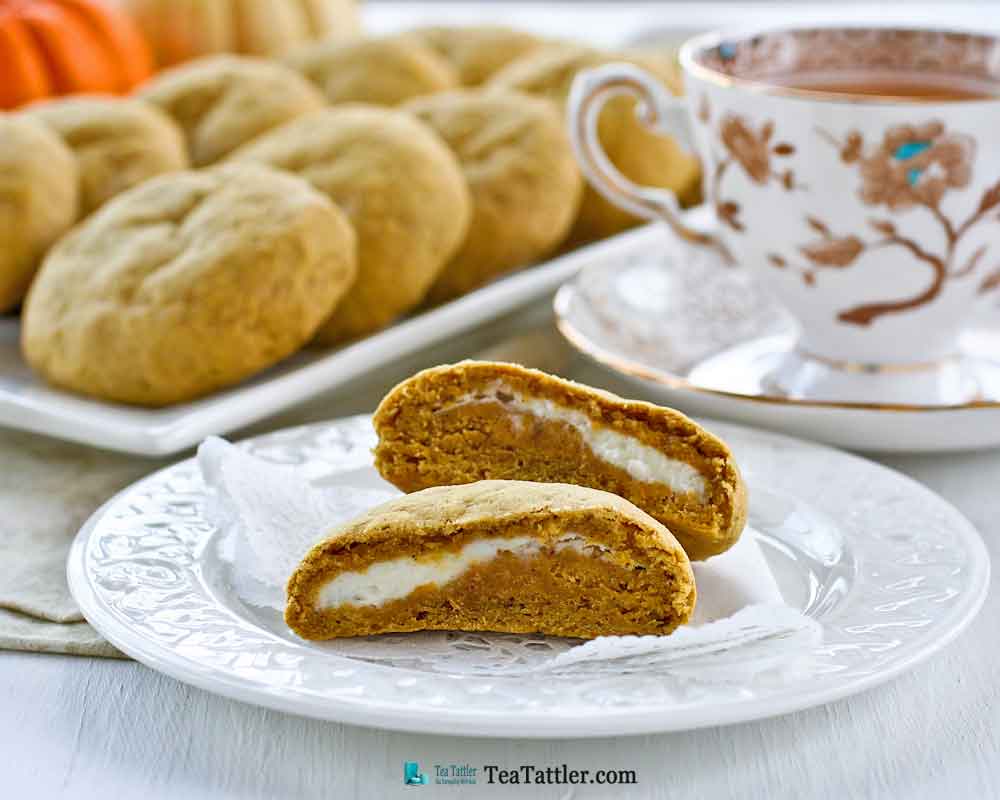 Similar Products Used in Making These Pumpkin Cream Cheese Cookies
This post contains affiliate links. Please read my disclosure policy here.
Heat-resistant glass teapot three-piece filter green leaf pumpkin pot
Green Leaf Pumpkin Heat-resistant Glass Tea Set, Filter, Tea Warmer and 4 cups
Pumpkin Glass Teapot with Glass Filter, 600 ml/20.3 oz
High Temperature Resistant Glass Pumpkin-Shaped Teapot with filter
Porcelain Tea Sets British Royal Series, Service for 6, Pink
Japanese Cast Iron Tetsubin Teapot Yellow Pumpkin Design
Pumpkin Cream Cheese Cookies
Pumpkin Cream Cheese Cookies - soft and chewy pumpkin flavored cookies with a cream cheese filling and a cake-like texture.
Ingredients
Filling
4

oz

cream cheese

(softened) (115g)

¼

cup

powdered sugar

(35g)
Dough
2½

cups

all-purpose flour

(575)

½

tsp

baking powder

¼

tsp

baking soda

¼

tsp

salt

1

tsp

ground cinnamon

1/8

tsp

ground nutmeg

1/8

tsp

ground cloves

1

stick

butter

(4 oz/113g)

¾

cup

brown sugar

(135g)

1

large

egg

1

tsp

vanilla extract

¾

cup

pumpkin puree

(190g)
Instructions
Combine cream cheese and powdered sugar in a bowl. Beat with electric mixer until smooth, about 1 to 2 minutes. Cover and transfer to the refrigerator. Allow it to chill at least 30 minutes.

In a medium sized bowl, combine flour, baking powder, baking soda, salt, cinnamon, nutmeg, and cloves.

In a large large bowl, beat butter and brown sugar until light and fluffy, about 2 minutes. Add egg and vanilla and beat until well blended. Slowly beat in pumpkin puree. Then add dry ingredients, beating in as much as the beater can handle. Mix the rest in with a spatula until just combined.

Lightly flour your hands. Scoop a rounded tablespoon of dough the size of a large walnut into your palm. Flatten and add about ¾ teaspoon cream cheese filling in the center. Wrap dough around filling. Roll into a ball to seal. Flatten the ball before placing on a cookie sheet. Repeat until all dough is used up.

Bake cookies at 350°F (180°C) for 23 to 25 minutes. Remove and allow cookies to cool on baking sheet for 10 minutes. Transfer to a wire rack and allow them to cool completely.
Notes
Store cookies in air tight container and refrigerate if not eaten within a day.
These cookies are soft with a cake-like texture. You only need two to satisfy any pumpkin craving. 😉 Refrigerated the rest if not eaten within a day.